Herdio 4" Outdoor Bluetooth Speakers Waterproof Patio Deck Wall Mount Speakers
Herdio 4" 200 Watts 2 Way Bluetooth Waterproof Weatherproof Stereo Wireless Speakers Surface Wall Mount Indoor Outdoor for Marine Boat RV Camper Patio UTV Black -1 Set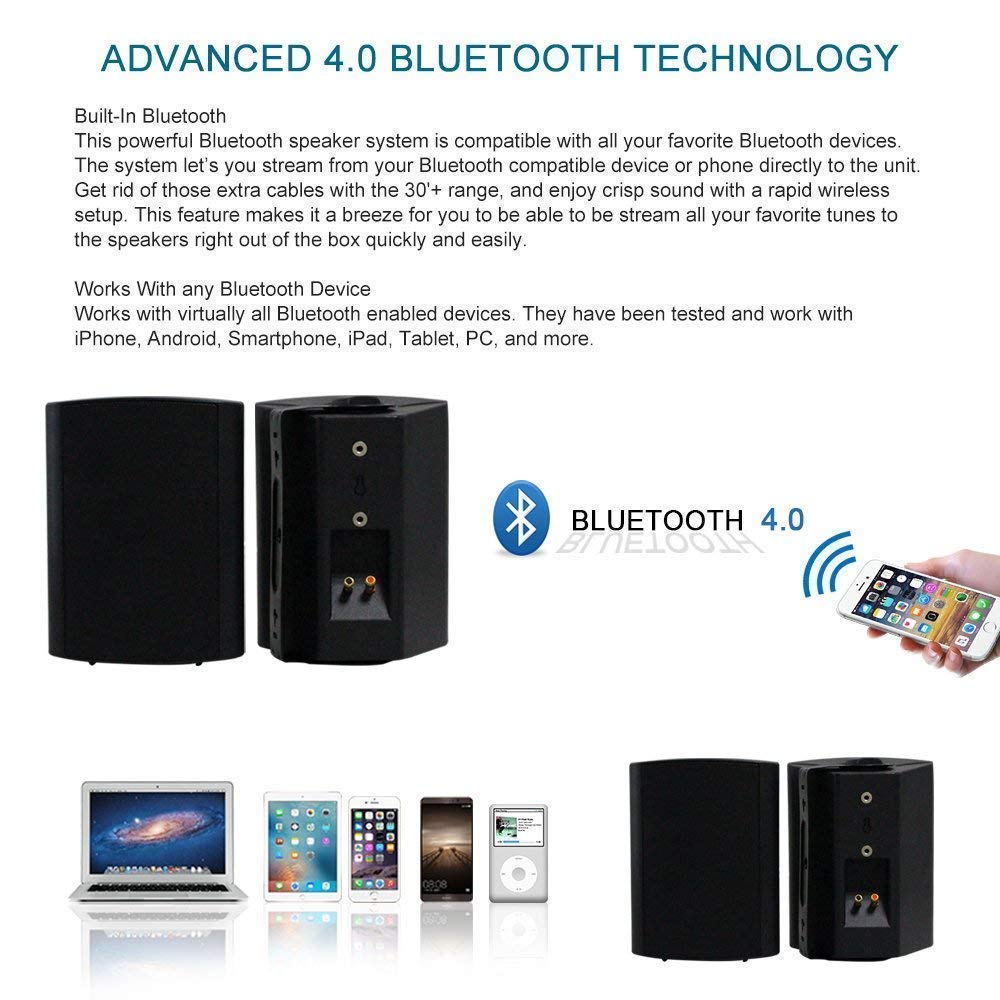 Main Features:
1. Active & Passive Speaker System
2. Built-in Bluetooth 2 Channel Amplifier
3. 4.2 Wireless Music Streaming
4.2-Way Full Range Stereo Speakers with 1 PEI Dome Tweeter
5. Marine Grade Waterproof Construction
6. Custom Tooled Design for High Power
7. Removable & Rust Proof Speaker Grills
8. Heavy Duty Engineered Plastic Cabinet Advanced 4.2 Technology This powerful speaker system is compatible with all your favorite devices.
The system lets you stream music from your Bluetooth compatible device or phone directly to the unit. Get rid of those extra cables with the 30'+ range, and 
enjoy crisp sound with a rapid wireless setup. This feature makes it a breeze for you to be able to be stream all your favorite tunes to the speakers right out of 
the box quickly and easily. Works With any Bluetooth Device Works with virtually all Bluetooth enabled devices. They have been tested and work with iPhone, 
Android, Smartphone, iPad, Tablet, PC, and more Marine Grade Waterproof Construction Marine grade waterproofing makes this speaker ultra-durable and 

convenient whenever you want to add some tunes to your daily activities. Perfect for those rainy patios and backyards or even near the pool. Splash some water 
and some sound with the Bluetooth Indoor/Outdoor Speaker System. Custom Tooled Design for High Power and Deep Bass Response This speaker system has been custom tooled for high-power and deep bass response that packs a punch. This professional quality speaker gives you incredible sound that transforms your space into a dance party. Don't let the size of this speaker fool you, it boasts a full rich sound that surprises and Great for: Great for Outdoor Indoor, the Pool, on the Patio or in the Boat, ATV, UTV.