Marine Bluetooth Radio UTV ATV Golf Cart +3" Boat Speakers+Marine Aerial
Herdio 12V Waterproof Marine UTV ATV  Gauge Radio FM AM Audio Bluetooth Stereo for Boat Camper UTV ATV RZR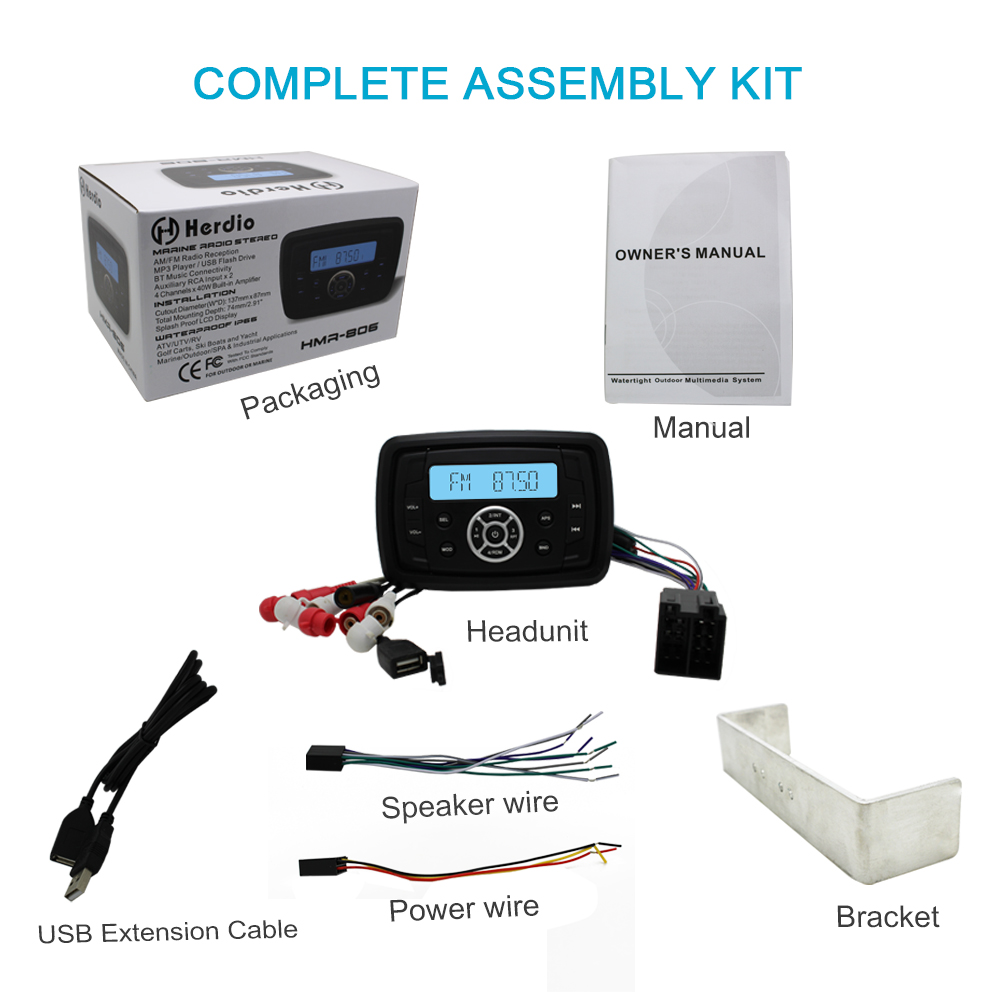 Product Details:
This tiny waterproof stereo is great for applications where limited space is available. Even though it is only gauge size, it can still power up to 4 speakers with 40 watts (peak power) per channel.
This stereo has no CD player. Instead it has an AM/FM radio and RCA Aux audio inputs on the rear which can be used to play the audio from iPods, portable satellite radios, etc. It also will play your digital MP3 files when you connect your MP3 player or Flash drive to the rear USB port (MP3 players will also be recharged). The unit also supports Bluetooth for wireless music streaming from your iPhone / Android or similar Bluetooth device.
Line out is also provided for connectivity to a external amplifier.
Ideal for:Motorcycles, smaller fishing boats, cuddy cabins, ski boats and PWCs, the unit is also perfect for spa pools, quad bikes, golf carts and RVs.
Features:
100% Brand New
MP3/USB
AUX input
Radio FM AM
Aux/RCA input
RCA output
Bluetooth Music Functionality
Clock/24 Hour
USA and European Radio Frequency
Bass/Treble/Balance
4X 40W Amplifier
Power supply: DC 12V
Waterproof Level :IP66 Standard)
Meets ASTM 117 salt/fog standard
Solid aluminum chassis
Rubber Tactile Action Control Buttons
High Definition Positive LCD Display
Bright LED illumination
Package Content:
Unit x 1PCS,
Wire cable x 1PCS
Install Bracket with screws x 1PCS
English Instruction Manual X 1PCS
USB extension cable x 1PCS
Pure White Retail Box x 1PCS
Installation Size:
Installation Depth =63mm
Installation cut out =87.9mm
3" Heavy Duty Waterproof Marine Speakers For Golf Cart  Truck Jeep Tractor Boat Hot tub Van Motorhome Motorcycle ATV UTV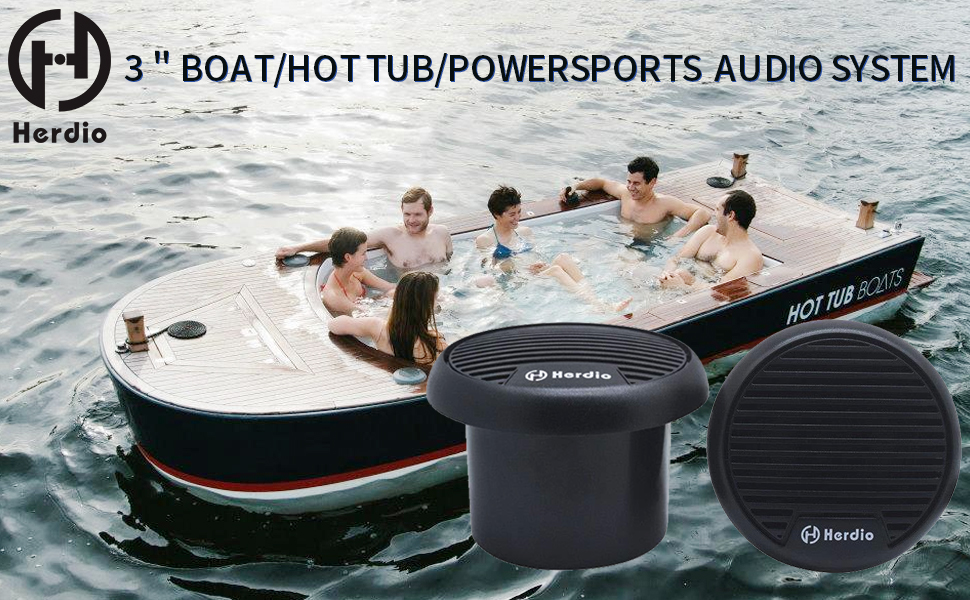 Introduction:
Who say heavy duty vehicles and equipment can't offer users great audio entertainment while out on the job?E-Max Heavy Duty is proud to introduce the new E-Max HS-61 Heavy Duty Speakers to the Ag,Construction,Utility,Off-Highway,Recreational,and PowerSport industries.These heavy duty box speakers are specifically built to not only offer full range audio entertainment when paired with the HS-61 E-Max heavy duty mini waterproof AM/FM/WB radio,but are exclusively designed to withstand the challenges of off-road and outdoor environments.-SOLD AS A PAIR.
Specifications:
Type:3' Full Range, compact speaker
Color:Black
Waterproof:IP66
Cone Size: 3"
Outside Diameter:  93.5mm
Mounting Hole Diameter:86mm
Mounting Depth:54mm
Impedance:4 Ohm
Frequency Response:120Hz - 20kHz
Power (max):  70W Per
Grill material: UV Plastic
Basket Material:UV Plastic
Cone Material:Polypropylene
Rubber Surround:No
Magnet Material:Ferrite, 4oz
Magnet Protection: Plastic Water Guard
Weight (single speaker): 0.4KG
SPL(1Watt/1Meter):80dB
Application: Boat,yacht,SPA,swimming pool, ATV,UTV
Package Content: Speakers x 2 Pairs


Herdio Waterproof Marine Radio Antenna Rubber Duck Dipole Flexible Mast FM AM Antenna for Boat Car ATV UTV RZR SPA
This marine antenna from Herdio gives you excellent performance, long-lasting durability, and plenty of mounting options. The flexible mast helps it withstand bracing winds, while the corrosion-resistant rubber exterior ensures that it won't succumb to salt and spray. Thanks to a 180-degree swivel base and a 52" cable, you can mount the antenna in a variety of locations on almost any boat, Heavyduty, ATV, UTV environment. Waterproof Rubber Duck Dipole Flexible Marine FM AM Radio Antenna for Boat Car ATV UTV RZR SPA